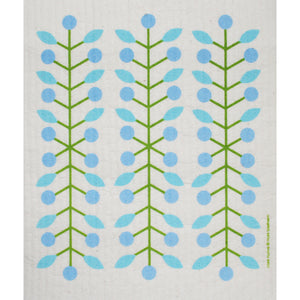 Swedish Dishcloth - Berry Branch Blue
Swedish Dishcloth - Berry Branch Blue - 7 7/8" x 6 3/4" - Put that roll of paper towels down...the dry sponge cloth which has become indispensable around the world, was invented in 1949 in Sweden by engineer Curt Lindqvist...This marvelously absorbent
Berry Branch Blue dish sponge cloth from Sweden can absorb an amazing 15 times its own weight. You'll never want to go back to paper towels or regular cloth when you see how it works. It softens when wet & washes & dries like a dream.
Kitchen surfaces are virtually streak free. The sponge cloth is printed with environmentally safe and water based colors so it is earth friendly and 100% biodegradable. 70% cellulose and 30% cotton, it's durable (just wash it in your washing machine). And the motif will give your kitchen a Scandinavian accent. Made in Sweden.